"The Dutch: experts in water"
The Dutch water sector has set itself the goal of doubling its added value between now and 2020. The Export & Promotion Core Team contributes to achieving this ambition by strengthening partnerships between the government and the business community in the area of international business, and by improving (the use of) instruments for the promotion of export and international trade. In this regard the Core Team functions as  sounding board, a link between the government and the sector.
The objective of the Export & Promotion Core Team is to gain worldwide recognition for the Dutch water sector as a Centre of Expertise. The Core Team responds immediately to opportunities for and threats to the sector. Its activities can be divided into four thematic main areas:
• Business Cases
• Economic Diplomacy
• Cooperation in the Chain
• National Approaches
Business Cases
Creating successful business cases requires far-reaching cooperation in the golden triangle as well as with NGOs. The international trend is that projects are introduced onto the market in a more integrated form – from design to implementation. This requires integrated solutions and innovative financing constructions. The Core Team responds to this by, among other things, streamlining public-private cooperation in the international market via the Rembrandt Water public-private network organisation.
Economic Diplomacy
Economic diplomacy is vital in order to respond to the world's changing economic relationships. A large part of global economic growth will take place in emerging markets like India, Brazil, Vietnam and China. To utilise the potential of these markets, it is important to remove trade barriers. This requires a strong diplomatic missions network that is capable of optimally supporting the business community. In addition, the Core Team is working on simplifying and improving access to the financial opportunities for export.
Cooperation in the Chain
This cooperation is seen in various forms. The Confederation of Netherlands Industry and Employers (VNO-NCW) has taken the initiative of bringing together the priority countries and the related marketing strategies of the nine Top Sectors. The Export & Promotion Core Team drew up these marketing strategies in consultation with and on behalf of the water sector. The integration of aid and trade also offers new opportunities for cooperation.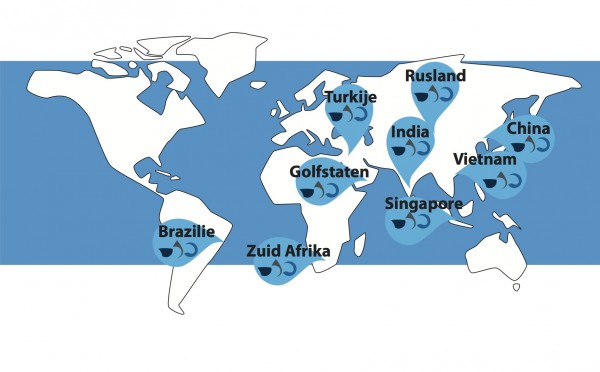 National Approaches
These approaches are set down in the internationalisation strategy for the water sector. The strategy contains further suggestions and recommendations for realising the objectives of the Water Top Sector. A marketing strategy has been drawn up for each country setting out who is already active there, what the opportunities and obstacles are, and what support is required from the government. Emphasis has been placed on several priority countries:
• Brazil • Russia • India • Singapore • Vietnam • China • South Africa • Gulf States • Turkey
All these countries have growth potential within the three sub-sectors of the Water Top Sector. The focus will be re-examined and sharpened every year. The five priority developing countries are:
• Mozambique • Kenya • Angola • Bangladesh • Indonesia